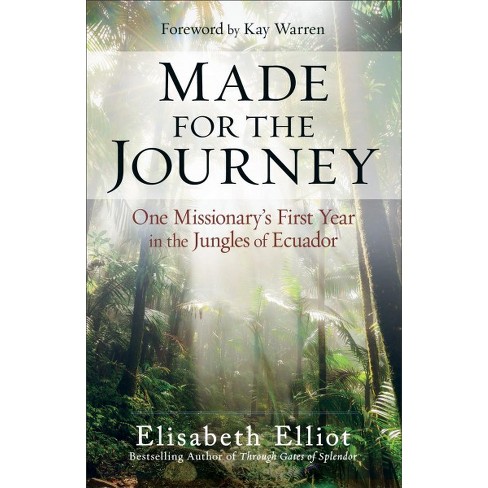 "In this deeply personal account of her first year as a missionary, Elisabeth Elliot shares the challenges she faced as she worked in the jungles of Ecuador to bring the Word of God to a people virtually untouched by the outside world. With fascinating detail, she captures the stark realities of life in the jungle, the difficulties she encountered while developing a written language for the tribe, and her confusion when God didn't "cooperate" with her efforts to accomplish what she believed was His will.
"More than just a memoir, Made for the Journey is a beautifully crafted and deeply personal reflection on the important questions of life and a remarkable testimony to authentic Christian obedience to an unfathomable God." ~from the back cover
Title: Made for the Journey (originally These Strange Ashes)
Author: Elisabeth Elliot
Genre(s): Christian Nonfiction/Memoir
Rating: ❤ ❤ ❤ ❤ (four stars)
Romance Content: The author *SLIGHT SPOILER!* (highlight to view)gets engaged in this book, and two of her friends also get engaged. It talks about her loving her fiance, *SPOILER END!* but there are no kisses or inappropriate content.
Recommended age range: Probably 12+. There are some gruesome things mentioned, including (highlight to view): a man being shot and dying and someone cracking open his head to get the bullet out, and a couple child births. However, it was not described in great detail.
My Review:
FTC disclosure: I received a free copy of this book in exchange for a honest review. I was not obligated to leave a positive review. These are my honest thoughts and opinions.
I enjoyed reading this book! I am not sure if I have read any of Mrs. Elliot's other books before, but I had definitely heard about her (and especially her husband), so when I saw the chance to read and review this book, I snapped it up. 😉 Made for the Journey was a very interesting book. It was especially interesting for me to read about Mrs. Elliot's life before marriage. She certainly went through some trials, and I appreciate it that she was willing to share her thoughts and weaknesses through the trials.
Overall, I felt like most of the book was rather dreary, although there were some happier parts. However, I think this will be a book that I will keep on my bookshelf. 🙂
Note: Just to make something clear: While reading this book, I realized that I don't agree with all of the Elliots' theology. Neither do I agree with Mrs. Kay Warren (who wrote the foreward and is the wife of Mr. Rick Warren) on all spiritual matters either. So please don't think that I do. 😉