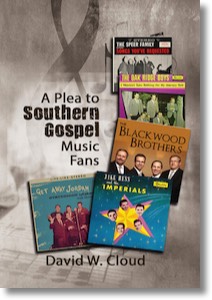 "This book is a plea for Southern Gospel music fans to wake up and tear down the bridges that are being built from conservative Southern Gospel-loving homes and churches to the world itself and to the one-world church represented by contemporary Southern Gospel and CCM.
"It is a plea to wake up to incremental steps that are bringing God's people ever closer to the world, the flesh, and the devil.
"I know by long and sad experience that many Southern Gospel fans do not listen to biblical warnings and reproofs. They treat biblical reprovers as carnal critics and refuse to give serious attention to the warnings.
"I am publishing this warning for those who are true disciples of Jesus Christ and who therefore "continue in" His Word (John 8:31-32). They love Christ and His Word above the closest friendships and relationships (Luke 14:26), certainly above music! True disciples of Christ esteem all of God's precepts concerning all things to be right, and they hate EVERY false way (Psalm 119:128). They "prove ALL things" by God's infallible Word. They have a testing mindset.
"Here is a challenge.. Do you have a testing mindset? Will you put Southern Gospel Music to the test?" ~www.wayoflife.org
Title: A Plea to Southern Gospel Music Fans
Author: David W. Cloud
Genre(s): Christian Non-Fiction
Rating: ❤ ❤ ❤ ❤ ❤ (five stars)
Recommended age range: Since it talks about some of the sins that some Southern Gospel singers/songwriters/pianists are involved in, etc., parents, please use discretion. I think it would be appropriate for 13+, but that is just my opinion and you know your children best.
My Review:
This was an excellent book! It deals with a challenging topic. While I am not really a fan of Southern Gospel music, I know some people who are, and I was curious what Mr. Cloud would have to say on this subject. I am grateful for the amount of research he put into this book and for his warning to conservative Baptists on the topic. He addressed a number of issues with Southern Gospel music, but the thing that stood out to me most was that it is really very similar to CCM (contemporary Christian music). The use of the backbeat and other beats, the "performance" style, the testimonies of the performers, the ecumenisicm: this all reminded me of what I read about CCM, when I read part of Baptist Music Wars (also by Mr. Cloud). (This may not be true of all Southern Gospel quartets, etc; I am really not very familiar with that genre of music.)
Even though I am not a Southern Gospel music fan, this book was still helpful to me. I think the main thing that I learned from this book was that I really need to be careful what I am promoting. (In this book Mr. Cloud was specifically talking about music, but I think that principle can be applied to many things.) Even if a book that I review is good, if the author is associated with apostasy or promotes bad things, all that is between the readers of my review being exposed to that is a click or a Google search away. So it really challenged me to be more careful. (Please let me know if something you read on this website may direct people to bad things!) I may not agree with all of the authors whose books I review on everything, but I will try to make that clear in each review.
I would recommend this book to every Southern Gospel music listener or singer as well as to those who have friends who enjoy Southern Gospel music: this music can be used as a bridge to the broader evangelical realm of apostasy. The good news: you can download this ebook for free by clicking here!
(I was not required by anyone to read this book, to leave a positive review, or to link to Mr. Cloud's website. I did this of my own volition and receive no compensation for this review.)